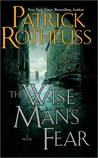 The Wise Man's Fear
by
Patrick Rothfuss
My rating:
5 of 5 stars
We've talked about Pat's first book, "The Name of The Wind," the book that reintroduced me to fantasy, that made me fall in love with it, and that gave me a goal as a writer. Indeed, without Pat I wouldn't have come to love Gaiman, enjoy Sanderson, or find Butcher's mix of crime fiction and fantasy to be enthralling.
Hell, I wouldn't have found Lynch and his beautiful Gentlemen Bastards.
As with any writer there are issue with the work. In "The Name of The Wind," Patrick had a firm, if a bit shaky, grasp on his voice. There were times when what he wrote was so damned stunning that I could hardly believe. There were also time when it could start to stray into purple, but those moments are few and far between.
The biggest issue that many readers have found is that Kvothe appears to be a little too great. As I said in my previous review, I believe that to be somewhat intentional. After all, he flat out says he starts a great deal of the lies that surrounded his own legend. Pat is a clever man and, from what I've gathered through my reading, a lot of this story uses the "unreliable narrator" to drive it.
After all, when we tell a story how often do we tell the truth objectively? As Woody Allen states in his masterpiece "Annie Hall,": "Things rarely go the way we want them to in life so I think that's why we try to make everything perfect in art."
Or something to that effect. My point is this, storytelling and music are the first two great human arts. Even in paintings we get a story of sorts, or else a reason.
What comes with this telling of stories is the telling of lies, unintentional or otherwise. So, when Kvothe speaks of himself or Deana, we can conclude that to one extent or another his is fulfilling his own wishes, much like some other real storytellers do.
Now, as far as the story goes in this book, it is easy to say that this book wasn't as great as the first. After all, a big part that we all love about the first book is the school with all its oddities. Here there is so little of the school and much more exploration of the world itself.
Here Kvothe is a court mage essentially, and a damned mercenary. There are legends told and more courtly games played. No school time mischief or drama.
Now, there are two really important reasons why this shift is important. The first of which is that it address an issue that I had with the first novel in that I felt the story was rather underpopulated. It felt as if there were not a great many people living in the world. Growing up in a small town myself, I can see that the reason behind this was simply that Kvothe was not really living in the world at large. This book changed that and that is a good thing.
Along the same lines we have the fact that, though a traveler, Kvothe is rather short sighted in his understand of the world and how it actually works. In part he is a teenager and, as such, claims more understanding than he has. However, the larger part is that, though a studious and well rounded person, he hasn't has first hand experience. Being told something or reading something is vastly different from doing that thing.
So, when we see Kvothe being forced to stifle himself or else he may be killed. Or see him being punished for insolence, this is important. These are lessons that, while he may not fully grasp them now, are helping to shape him into the more reserved, less hot-headed, wise man he has become. Even after learning from the Lethani, Kvothe is still a brat, but it is clear that, to one extent or another, his time in court as well as him time among the Lethani has helped to change him and make him a little more reserved.
Now, the sex in this one is a big issue for some. I will say that I thought it a nice touch, though I believe there were a few instances that I felt could be cut. Not because they were offensive, but more so because they were a little pointless in my book.
All in all, this was a damn fine book and, while some may feel a bit upset that it did not really bring us a great deal closer to the end, remember that the journey is more important. There are more reasons to read something that to reach its end. In anything, it is the end of a thing that we try our best to avoid.
View all my reviews
try some free audible here:
Try Audible and Get Two Free Audiobooks
Or buy the book here:
The Wise Man's Fear: The Kingkiller Chronicle: Day Two